Yearly average temperature, 15℃ Jeju Island is the largest volcanic island in Korea. Officially called Jeju Special Self-Governing Province, this premier tourist destination boasts mild weather, as well as scenic beauties of beaches, waterfalls, cliffs, and caves. Some of the top tourist sites include Hallasan National Park with a largely diverse species of flora and fauna, Seongsan Ilchulbong Peak with breathtaking views, and Manjanggul Cave, the world's longest lava tube that has been registered as a UNESCO World Natural Heritage. Jeju welcomes you!
Visa
Jeju is visa waiver zone but
*As of Feb. 6 2021, Jeju island visa-free status is suspended
due to coronavirus. There is a list of countries requiring visas and please check out the notice at
Jeju News
Travel sites
Hallasan Mountain
Designated as a UNESCO Biosphere Reserve and recognized as Global Geopark, this national park is covered with various colors of vegetation throughout the year. During our ACPR2021 conference period in fall, everything will be blanketed by a colorful display of flowers, and the mountain will be covered with the red color of the fall foliage, which is truly a sight to behold.
Seongsan Ilchulbong Peak
Erupted underwater in the ocean about 5,000 years ago, this is a very rare case among the many craters in Jeju. In the area, people used to farm and it is now a natural habitat for 200 types of vegetation such as silver grass, vine, Pseudosasa japonica, and giant angelica as well as or a variety of wild animals. Recognized for its outstanding landscape and geological value by UNESCO and added to the World Heritage List, it was named a Global Geopark site in 2010.
Yongmeori Coast
Named after a dragon-like figure, the Yongmeori Coast is a sandstone bed created by layers of sand deposited for tens of millions of years. This mysterious scenery makes visitors exclaim in wonder. At the foot of the coast is a Hamel Monument, established to commemorate the dedication and hard work of Hendrick Hamel.
Seopjikoji
Located on the east coast of Jeju Special Self-Governing Province, it is a beautiful coastline filled with canola flowers during the spring with Seongsan Ilchulbong Peak rising in the back. With the traditional beauties of Jeju, a vast land filled with canola flowers growing on the hill, Jeju donkeys grazing peacefully, beautiful rock cliffs, and the legendary Seonbawi Rock standing in the middle of the ocean, Seopjikoji is even more special and unique as it is made of red volcanic ash called "scoria" with strange rock formations, only observed when the tide is low.
Cheonjiyeon Falls
With 22m high and 12m wide, its view and the sound that the falling waters create is magnificent. Not only Elaeocarpus, which is designated as Natural Monument 163, but also a variety of temperate plants such as brambles, Psilotum nudum (L.) Griseb., Siebold's chinquapin, Shiny xylosma, and camellias grow in the valley near Cheonjiyeon Falls. It is also famous for the Natural Habitat for Giant Mottled Eels (Natural Monument 27), which are nocturnal.
and Manjanggul Lava Tube, Soesokkak Estuary, Jeju Olle Courses, Nexon Computer Museum, Jeju Museum of Contemporary Art, O'sulloc Tea Museum, and there are more to look for yourself. Intriguing and exciting Jeju places for you can be found at Places in Jeju
Foods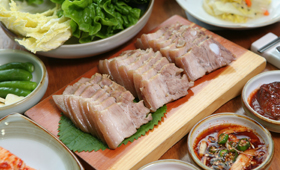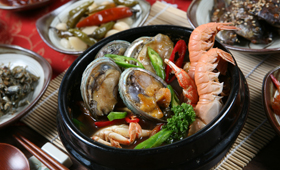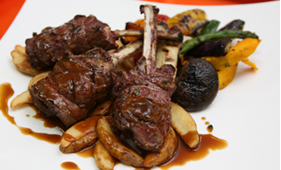 Jeju is a traditional and modern food heaven with various delicacy range from black pork meat to hairtail. With tenderness inside and crispiness outside black pork meat grilled with charcoal is the most famous cuisine in Jeju. More information and restaurant locations for your appetite at Restaurants in Jeju